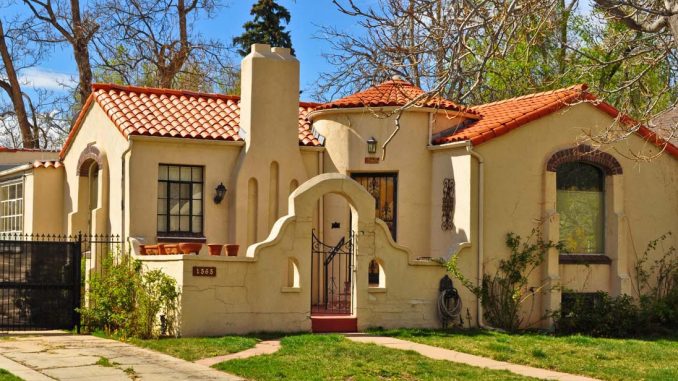 Imagine having a resort experience in your own home or vacationing experience all year round. A Mediterranean home gives that vibe every time you open the slick wooden door leading to the plush hand-painted tiles on the floor. You get the beach and homely feel roll into one.
Mediterranean style homes are inspired by both the Italian and Spanish architecture giving it a classic look but with a touch of modernity and let's not forget class. Mediterranean homes are built mostly in hot places with both indoor and outdoor gardens. Since Mediterranean homes are inspired by sunny countries, they are built to ensure ventilation, outdoor activities, and leisure.
Exterior Features
One typical feature of the exterior part of Mediterranean homes is the stucco walls. The walls are mostly painted in clay to give off the natural earth feel. Stucco is not only found on the outside alone, the kitchen walls can also be made with it.
To complement the stucco walls, the sloping roof is made with red clay tiles. The red color is to give the house a bright appeal. The barrel-shaped roofs are typically low-pitched to enhance the ventilation of the house. The roof is low enough to give shades to those outside while ensuring that the interior remains cool.
Mediterranean homes have open landscaping. The large courtyard can serve the purpose of a garden as well as provide a great view for anyone inside the house. You can have a serene and scenic view with a fountain and rich greenery with exotic flowers. Since the idea is to feel homey while living a sort of resort lifestyle, you can add palm tree to the mix. An outdoor fireplace will help on cold nights or better still, if you have space, you can have a gazebo or pergola.
Interior Features
For most Mediterranean homes, the floors are hand painted tiles. Tiles are used on the floor and even the stairs with elegant but warm designs. The colors are usually cheerful and bright with a soft texture to touch. The flooring is mostly made with marbles or terracotta tiles to keep the house cool but classy.
Mediterranean homes are glamorous but also simple. Spiral stairs give the royal and majestic appeal to the house with wrought iron stair rails of unique designs. The stairs risers are made with hand painted tiles leading to archways painted in white. The doors and windows are sometime in arcs but typical Mediterranean homes have large windows that give an open view of the exotic courtyard.
The interior of typical Mediterranean homes has high ceilings though they are usually not more than two stories. The ceiling beams are made of wood to make the room well ventilated and open.
Mediterranean homes are not only luxurious they are fabulous. You fall in love every time you step into the house. From the stonework to the texture, the floor plan and the woodwork; art, modernity, and class are in harmony.