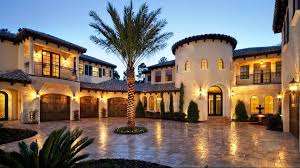 Curves and arches, beautifully painted tiles and floor, as well as a large but homely terrace and courtyard, are some of the distinctive features of a Spanish style home. The American settlers from Spain inspired the design of Spanish style homes, which are also known as Spanish Revival or Spanish colonial.
Spanish style homes started in the early 20th century but it has evolved with a little touch here and there and personalization to suit the taste of the occupant. However, no matter how diverse they are, some unique characteristics make Spanish homes remain classic and breathtaking.
Ensure It is Curvy and Arched
Curved staircases are a distinguishing feature of Spanish-inspired homes. These architectural elements usually serve as a path to archways doors. Apart from the doors, the windows are also made in an arch shape to give you a view of the spacious courtyard. The rooms are built in niches and alcoves for a unique and classic feel. Make a majestic descent from your beautifully decorated spiral stairs while deftly touching the finely crafted stair railings.
It Must Have Expansive Courtyard and Patios.
Spacious balconies, veranda, and terraces give you outdoor advantages in a Spanish-style home. You can enjoy outdoor activities during summer or even in the winter. To be able to take full advantage of the expansive terrace, build an outdoor fireplace to prevent you from getting cold during the winter or at night. You can spice up your terrace by decorating it with terracotta vases to make it more homely.
Roof and Tiles Have to Be Earthy and Warm
The terracotta roof is multi-level and often red clay. A chimney is mostly found perched and standing tall on a Spanish style home with a small window. Another important feature is the painted tiles on the floor and the stair risers. These are in natural earth tones like chocolate brown, mustard yellow or red clay. You can hand paint your stair railings and design it with flowers in cool or warm colors.
Interior and Exterior Designs Must Stand Out
Both the indoor and outdoor decoration of a Spanish style home looks unique and has a natural feel. The natural earth colors and tones of the ceilings and walls give a welcoming air in the house. The interior should also boast of furniture, which is made from rustic wood like the rosewood, mahogany, walnut or teak. Design your outdoor with graceful archways and slick furniture to make it as inviting as the interior.
Never Settle for Less With Wrought Iron.
Make your heavy wooden door quintessential with iron wrought and knockers. The ironwork also makes the stair railings; gate and windows grilles stand out. Iron further complements wooden windows and comes in different spiral designs. An impressive woodwork is an essential part of any Spanish revival, from the arched windows to the doors and the furniture, smooth dark wood gives that comfortable yet fresh sensation.
Mix the classic with the modern in a Spanish colonial home and enjoy the lush and the luxury that comes with it.