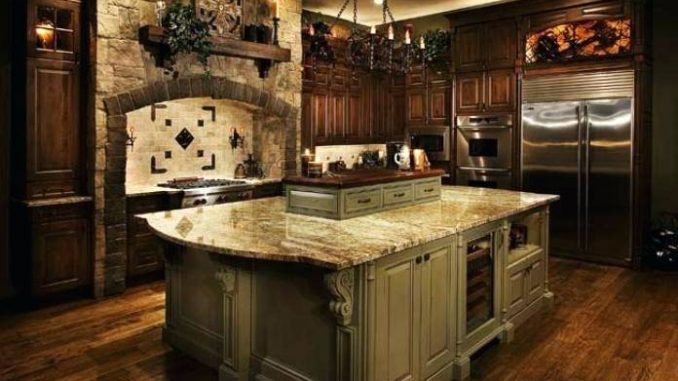 How beautiful will it be when your kitchen draws it color tone from the yellow hue of the sun, the green of the Mediterranean, and the red ochers of the earth? A Tuscan kitchen is about achieving an old world look for your kitchen. The Tuscan kitchen is a hallmark of Tuscan architecture. For information purpose, Tuscan is a region along the coastline in Italy. Without exaggeration, it's one of the most beautiful places in the world. It is known for its lush green countryside which makes it relaxing all year round. The beautiful landscape of Tuscan is also replicated in the décor of Tuscan architecture and one of such places in the Tuscan Kitchens.
Tuscan architectural masterpiece is not complete with round archways, tiled rooftops, earth tones and stucco walls. Of all this design, the Tuscan kitchen stands out with these elements. In every Tuscan kitchen, the terracotta, ceramic, wrought iron, travertine, and glass are a common sight. All these have contributed to the popularity of Tuscans kitchen which is a symbol of the warmth and beauty of Mediterranean kitchens. Nothing brings out the love for food and family than a Tuscan Kitchen. The calm ambiance sets the mood for good food and relaxing conversation. Aside from being relaxing, Tuscan kitchen comes out with a natural and timeless look that makes you fall in love with the food that comes out of it.
To arrive at the best Tuscan kitchen in your home, take your time to study the appearance of Tuscan. You can always find amazing pictures on the internet, Google Earth can also give you with live images, or you visit Tuscan for the right idea. The design of a Tuscan Kitchen must be a replication of the warm colours of the landscape. Dotting the landscape of Tuscan lavender flowers shaded by the blue skies and rolling hills. Whatever choice you made for your Tuscan kitchen, it will always be a celebration of family, culinary skills, and art.
The Tuscan kitchen is the best way to bring some form of Italian romance right into your home. Whether you are settling for a mosaic backsplash, painted tiles or frame artwork, it will all come out with an Italian appeal. Whenever you decide to remodel into a Tuscan kitchen, there's no need for replicating a kitchen in Tuscan. Your source of inspiration should be nature, Tuscan architecture, and art.
In essence, regardless of what you want your Tuscan Kitchen to look like, ensure you keep in the elements. The elements are; wood, stone, color, metal, adornment, and antiquity. With these elements, you can never get it wrong with your Tuscan Kitchen. So also, every Tuscan kitchen has an abundance of natural lighting. This is because it serves as a place of family gathering and other activities.
Just like every other unique design, ensure the elements are well balanced and strategic. Every Tuscan kitchen is well accessorized, don't leave it bland and blank. Add some form of taste to your Tuscan kitchen.