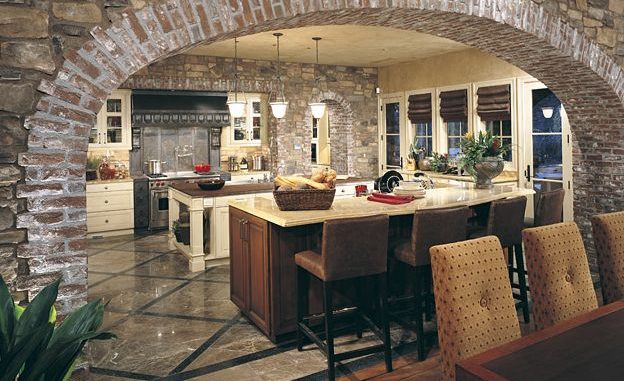 Take a stroll up the stony stairway and take a peek through the smoky blue shutter. What could be lying behind the door of the Tuscan Villa you would wonder? The flourishing potted plants lined on the edges of the cracked, distressed and clay-colored steps will continue to stupefy you. This isn't an illusion, it's the Jacquard-woven, cotton wall tapestry created by the resourceful Roger Duvall with a simple brick frame to garnish your house with that timeless Tuscan style.
The Tuscan style consists of decorating ideas that depicts a cozy environment. It reveals the evergreen guide that leads to your own Italian universe. There are a lot of colors on the wheel available for your creativity, the color guide is there to help you create your Tuscan-inspired color scheme.
The major inspiring features are the wall décor, the colors and furnishings. These tripartite characteristics will steer your home toward an authentic look. The interesting thing with Tuscan style is the freedom to maneuver the colors and materials as you please. For the interiors, the courtyard and kitchen, there are a lot of decorating tips that will invoke that classic Italian culture. With little inspiration and a creativity to match your ideas, you can come up with a Tuscan style decor capable of ranking your home among the best Italian beauties.
Tuscan Wall Style
There are lots of wall adornments to beautify your home. Metal and wooden materials are the basic components of the Tuscan style décor, it also includes the Mediterranean style wall art, panels and plaques, grand iron wall grilles and a vast collection of scrolled iron mirrors for the bedroom, bath and boudoir to surround you with the old-fashioned Italian sensation.
Tuscan Kitchen and Dining Areas: Everything a Woman Loves
Every woman has a soft spot for a superb kitchen setup, it's easily their area of interest in any home. A Tuscan Italian kitchen and dining space would sweep any woman off her feet because of the various options available to modify and own the whole setup. The Tuscan style feels welcoming, it's an invitation to gather, feast, wine and dine. Tuscan style is made up of golds, warm brown, creamy neutrals and distressed tones that will help you to create your desired soothing atmosphere.
The furnishings and upholsteries usually have a rustic appearance or gentle distressing. The use of embellishments like marble or ceramic tile in your kitchen decor to complete the look is also a common practice. If you fancy retrofitting your formal dining room to a Tuscan style, a wall grille is handsome enough to spice your decoration and a wall mirror will add the needed depth.
You can add color, glamour and spice to your Tuscan style by opting for home accents. There are a lot vegetable, fruit and wine designs in form of canvas, wall arts, wine bottle holders, and decorative centerpiece bow that you can install.
Cheery florals like red poppies and golden sunflowers will give an instant Italian flavour to your dining areas with fruity themed dinner wares and serving pieces. With all the options available, you are definitely spoilt for choice.