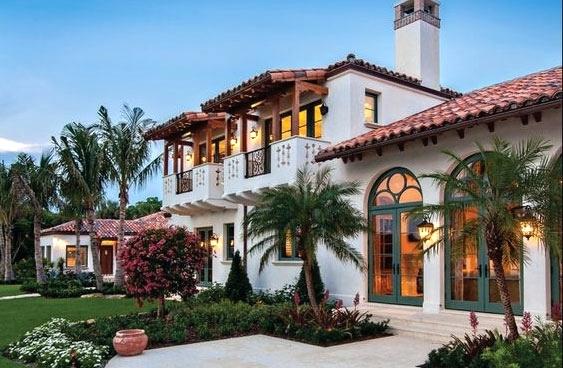 Spanish style homes date back to 17th and 18th Century Spanish homes with red roofs, colorful tiling, stucco walls and wrought iron detailing. In essence, what comes to mind at the mere mention of Spanish style homes is often diverse. It could be the off-center doors, the gently sloped tiled roof, or the asymmetrical external construction. There are different elements only peculiar to a Spanish style home which makes it unique and distinct. So also, over the years there have been different divergent to Spanish style homes; Spanish Eclectic, Mission Revival Style, Spanish Baroque and many others. All these divergent all share similar elements.
1. Arches and Curves
In every Spanish Style Home, arches are quite pronounced. They are noteworthy and obvious right from the exterior to the interior. The windows, doors, and porches are uniquely designed with arches and curves. There is also a connection between the curved pathways that often leads into the arches. It's not uncommon to have a curved way that leads to an arched door.
2. Painted Tiles
There is rarely another other renowned world architecture that utilizes painted tiles than Spanish style homes. A Spanish style home is incomplete without the color patterns added to the home by painted tiles. Handpainted tiles are also a standard feature as they art a form of unique artwork to the general outlook of the Spanish style home. Where the painted tiles are more used are the risers and stairs in the apartments. Therefore, both inside and outside of a Spanish style home has a touch of decorative tiles. The walls are also adorned with tiles, and the kitchen isn't also left out.
3. Stucco Exterior Walls
This is supposed to be the signature of Spanish style homes. There isn't a Spanish style home without the presence of a thick and well-textured stucco walls. These stucco walls are either in earthy, white or off-white tones which makes the structure stand out often. The textured stucco is an outcome of the combination of cement, water, lime, and sand. This provides a beautiful ancient look that captivates attention even from afar.
4. Terracotta Roof Tiles
The best way to understand the beauty of Spanish Style home is to look at the roofing from afar. While flying over Spanish style homes, you won't have to be told of how beautiful the interior will appear. The red clay rooftop provides an earthy and rusty look which ooze a warmth uncommon to other forms of architecture. What also stands out with the roofing is the asymmetrical and multi-level nature which is just a beauty to take in.
5. Detailed Wrought Iron Work
Gracing the window, balconies, gates, railing, and grilles of a Spanish Style Home is an intricate and detailed wrought ironwork. There is nothing to be considered as ordinary about these ironworks. Even when wooden doors are opted for, there'll still be some form of wrought ironwork to complement it. It won't be an exaggeration to say a Spanish Style Home is incomplete without a wrought iron detailing.